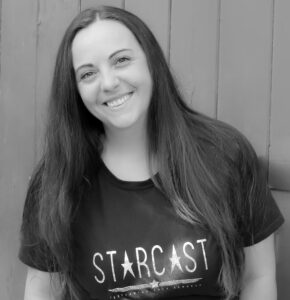 Starcast Amesbury Mini Stars Drama Teacher, Starcast Drama Collective Director, Starcast LAMDA Coach, Saturday PM School Drama Teacher
Bexy is a professional theatre practitioner, (actress, singer, director, writer & producer) as well as a drama teacher & confidence coach. She operates under the name of Cherry Blossom Arts (Theatre School) & Cherry Blossom Productions (Touring Theatre Company) in which she is both Founder & Creative Director.
Originally a ballet dancer, Bexy went on to train at The Hub Theatre School in Cornwall & has a BA (Hons) Degree in Theatre Arts, an HND in Physical Theatre & a ND in Performing Arts.
She is currently studying for her Trinity ATCL Teaching Diploma in Speech and Drama, Theatre Arts & Communication Skills & in September 2021 is hoping to fulfil a dream of doing her MA in Drama/Theatre or MA in Directing at Guildford School of Speech & Drama.
Bexy LOVES teaching at Starcast and is a huge promoter of theatre training being an integral part of human development for all aspects of life. She encourages all her students of every age & ability to be themselves, inspiring confidence and creativity for everyone around them. She embodies community, togetherness, positivity, hard work, drive, determination, creativity and always says, 'No!, to societies no's'!
Bexy will do anything to support people fulfilling their dreams and ambitions and believes that anyone can achieve anything if they put their mind to it.
Her mantra is clear…. As Einstein once said: Everybody is a genius. But if you judge a fish by its ability to climb a tree, it will live its whole life believing that it is stupid.
Her theatre credits include:
Dorothy in The Wizard of Oz, Tessie in Annie, Liesl in The Sound of Music, Jessica in Share & Share Alike, Sally Bowles in Cabaret, Carmen Diaz in Fame, Abigail Williams in The Crucible, Tess in Tess of The D'urbervilles, Katherina in The Taming of the Shrew, Juliet in Romeo & Juliet, Blind Ali in Treasure Island, Blossom in The Snow Queen, The Vagina Monologues (All female ensemble production), Widow Corney in Oliver The Musical (Pre Production) to name a few.
Bexy also loves to spend some of her spare time with other groups and is a trustee, performer, drama coach, producer and stage manager of The Athenaeum Masqueraders Musical Theatre Company in Warminster, a member of Musical Theatre Salisbury as a performer and singer in Evolution Choir, Salisbury. She has also been a trustee, director, producer & performer at The Woolstore Country Theatre in Codford and in December 2019 she produced and directed the Pantomime 'Snow White & the Seven Dwarfs' which was nominated for a NODA South West Award: THE PETER WHEELDON MEMORIAL TROPHY (COMPANY CRAFTED PRODUCTION).
Bexy is DBS checked & has a Chaperone Licence under Wiltshire Council & is Full Paediatric Blended First Aid trained.