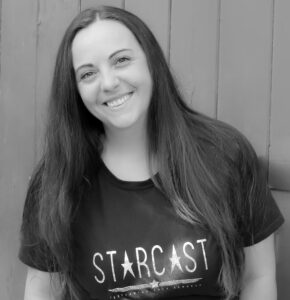 Starcast Amesbury Mini Stars Drama Teacher, Starcast LAMDA Coach, Saturday PM School Drama Teacher
Miss Bexy is a Freelance Actor, Producer, Director, LAMDA Instructor & Drama Coach. She has experience across a variety of industries as well as roles and areas within the arts. Her main passion has always been in theatre as the buzz of a live performance can never be beaten but recently have embraced the virtual theatre world through the pandemic and is now breaking into the wonderful world of TV & Film.
She Founded & is Company Director of her own performing arts school which offers performing & creative opportunities to those who are breaking into the performing arts industry or looking to gain more experience and credits for Spotlight.
She is an incredibly passionate practitioner with the mindset of 'never giving up' and encouraging all her students, members & community through sheer drive and determination to do the same. She prides herself on being an approachable person, who will always give an honest opinion with strong communication skills with people from all walks of life.
Constantly looking to grow her own experience & training in her own career, she is working towards her LTCL Teaching Diploma in Speech & Drama with Trinity College London & in the future will be completing a Masters in Screen Acting. Having performed on stage since the age of 3 years old & being a classically trained ballet dancer, Rebecca has also undergone training at; – The Hub Theatre School – The Poor School – Sylvia Young Theatre School & has a BA (Hons) Degree in Theatre Arts. An HND in Physical Theatre & a ND in Performing Arts Her love of teaching began when she was 14 when she coached gymnastics to tots at her local gymnastics club where she was a squad member and competition gymnast for 5 years and won medals for my county (Cornwall) in floor work.
Miss Bexy LOVES working for Starcast Performing Arts Schools. As Einstein once said: – Everybody is a genius. But if you judge a fish by its ability to climb a tree, it will live its whole life believing that it is stupid.
Rebecca Bidwell is DBS checked & has a Chaperone Licence under Wiltshire Council. Rebecca has Full Paediatric Blended First Aid provided by Wiltshire First Aid Training Centre. Rebecca is fully insured for public liability.