The Masked Singer – Starcast Teachers Edition – Champion
Posted on 18/03/2021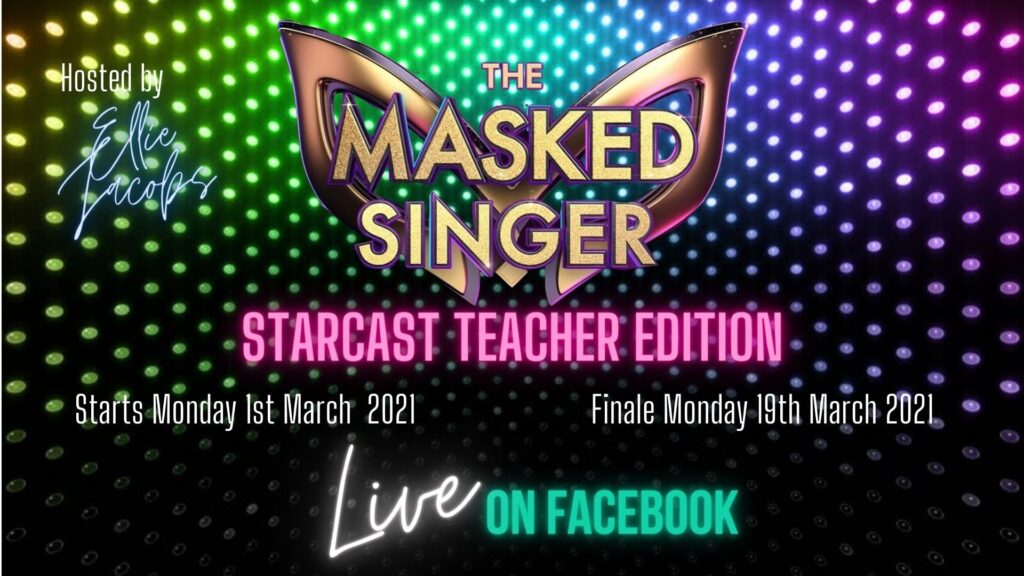 Posted in:Starcast Competitions
Starcast Performing Arts Schools Salisbury staff, teachers and assistants battled it out in their very own very of The Masked Singer.
The show was hosted by our very own, super talented, Ellie J, who wowed us with her incredibly funny charisma and puns that were never ending (plus the wonderful variety of backdrops).
Week One: kickstarted our fabulous virtual show with 9 contestants fought for their place each week by singing and providing clues and hints about who they were. Comments flew in from viewers with their guess of 'Who's behind the mask', but voting came down to how many likes each contestant received, and the contestant with the least votes…would be revealed in the following weeks episode. The suspense was intense!
Week Two: revealed the wonderful Mr Craig and Miss Emily, who hid behind the characters Octopus and Clock. They did some incredible singing! Well done.
Week Three: unveiled  a triple elimination of,  Miss Nici, Miss Kiri and trainee assistant, Miss Freya, who portrayed the characters: Pharaoh, Daisy and Viking. Things were really heating up now, leaving only 4 in the finale. Unicorn, Butterfly, Fox and Queen Bee were still left in the competition, now fighting for the crown.
Viewers were asked to cast their vote using a fancy online voting app! After three long days of voting, the votes were collected, counted and verified, ready for the big finale. Who would be crowned the first The Masked Singer – Starcast Teacher Edition Champion?!
Week Four – The Finale
The four finalised prepared for battle one last time. All songs had been sung, all clues had been given…but who made our first champion.
The results were as followed:
fourth place we saw the wonderful, Miss Amyarie who was disguised as the Butterfly
Third place we saw the super talented, Miss Emma Louise, who is new to the Starcast team, who was disgusted as the Unicorn
Second place was none other than our super star, Miss Katie A, who was disguised as the Fox
and our winner of the 2021, The Masked singer – Starcast Teacher Edition was….
Miss Katie Waygood who hid behind the mask of Queen Bee.
Congratulations to all our wonderful teachers, staff members and assistants for their hard work in putting this super fun, virtual show together.
To close the virtual show, the Starcast Teachers put together a special virtual performance for everyone to enjoy and it was dedicated to our wonderful, Starcast family and friends.
If you joined us, we hope you loved it as much as we did creating it!
Here's what some of the viewers had to say;
#StarcastLove
"Wow wow wow! Just watched on rewind and you made us all cry! What an amazingly talented group of teachers you are! Super well done to the winner too!"
– Cass, Starcast Parent

"LOVED IT!!

All of you were just brilliant! Congratulations Miss Katie W

!!! Thank you Miss Kiri for making this magic happen xxx"

– Sam, Starcast Founder and Parent

"That was brilliant!!

well done everyone!"

– Rachel, Starcast Parent

"We've loved trying to guess again this week. We aren't very good though but it's great fun! "

– Helen, Starcast Parent

"Kaiya and I love this

So exciting"

– Sarah, Starcast Parent