Starcast Summer Workshop 2022
Posted on 01/02/2022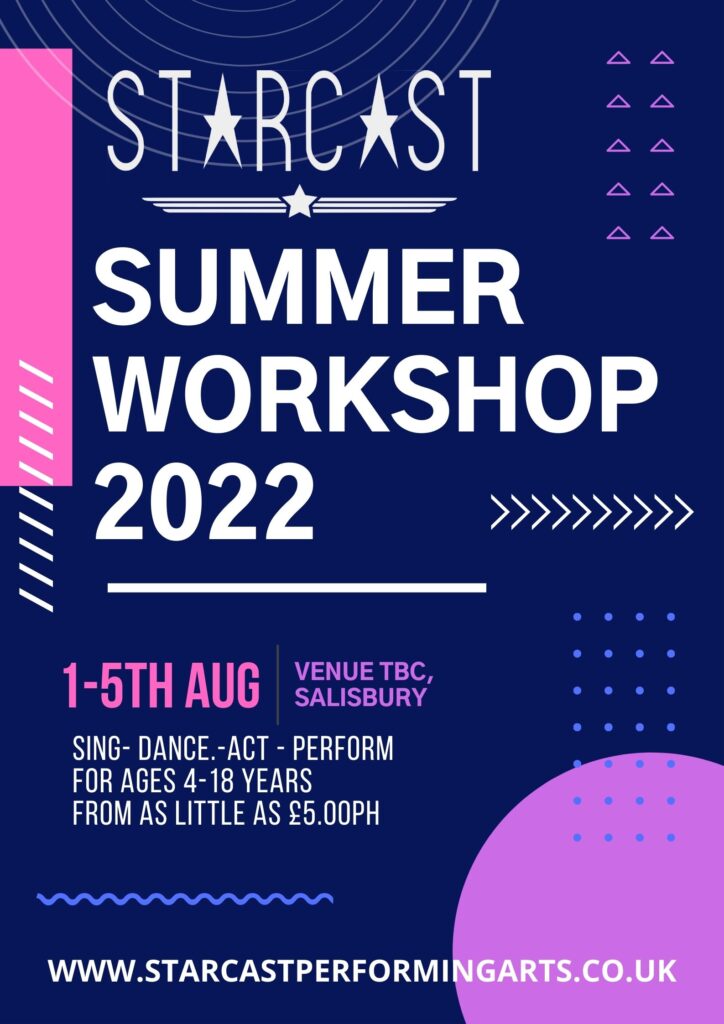 Posted in:Drama Classes,Singing Performances,Starcast Dance Classes
Hi there Starcast Parents, Guardians, Students and New Friends,
We are delighted to bring to you once again our fantastic Starcast Summer Schools this August 2022.
We offer a week intensive filled with singing, dancing and acting to keep your energetic children entertained over the long summer holidays. And while you may be working, they'll be playing!
Why choose to spend your summer with us? SIMPLE!
Here's 10 reasons why:
1) Train with passionate industry professionals
2) Performing Arts and Physical activity has been scientifically proven to boost and increase your use of motor skills
3) a fantastic way to meet new friends and gain social skills
4) a positive challenge to discover a new passion or hobby
5) to have an undeniable amount of fun!
6) learn techniques across the 3 disciplines , providing you with the foundations to be a successfully triple threat performer
7) Exercise and movement release endorphins which in turn make you feel happy, and when you're happy, we're happy!
8) the chance to be able to express yourself in a safe and creative environment (theres no judgement here!)
9) the opportunity to become apart of something more than just a class, become part of the Starcast Family
10) Turn up, be yourself, and give yourself or your child their right to shine.
So, why wouldn't you want to discover the best version of you?
We are also offering 'Wrap Around Care' to help those busy mummies and daddies get to work on time and not have to worry about becoming a crazy taxi service, we've got you covered, so you can drop off en route to where you need to be.
All staff are highly qualified, experienced and DBS checked, giving you piece of mind your stars are in safe hands.
For ages 4 – 18 years old, no previous experience necessary.
Cost starts from as little as £5.00 ph!
Want to know more? ….e-mail starcastfordingbridgekla@gmail.com for your a FREE Starcast Summer School 2022 information pack! And all the information about times, price plus everything you will need to know about signing up your shining star can be found there.
I really look forward to getting to spend another fantastic summer with some super talented students!
See you there.
The Starcast Team x