Starcast Drama Company Awarded First Place
Posted on 28/03/2022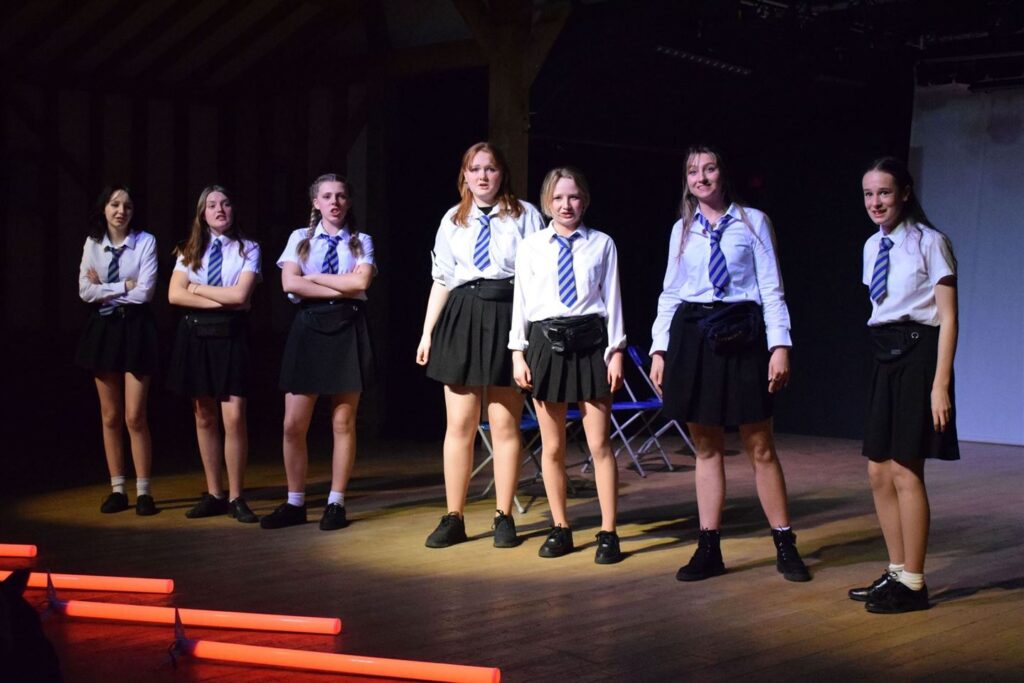 Posted in:Drama Classes
WOW
Totton Festival of Drama, is an award winning One Act Play Festival.
They are a round one of the All England Theatre Festival, the only national eliminating One Act Play competition, and also the Hampshire round of the 5 Counties Youth Festival.
The festival, which happens every March at the Hanger Farm Arts Centre, West Totton, is open to all amateur drama groups, schools and colleges and is a fantastic learning tool for both groups and audiences alike with professional adjudications for every play
Last year Starcast entered three youth groups and won Best Youth Play, Best Female Lead, Best Male Lead and Best Supporting Actor.
This year we are delighted to say, amongst lots of competition from Drama Groups from Bournemouth to Hertfordshire, Starcast again won many awards including the prestigious Best Youth Play which means Starcsat Drama Company will progress to the Five Counties Youth Festival and compete at this acclaimed Drama Festival in May.
Starcast Drama Company won  BEST YOUTH PLAY for "Girls Like That" directed by Samantha Holloway, Best Technical Achievement (from all adult and youth plays) for "Girls Like That" directed by Samantha Holloway
We had lots of students nominated for Best Female and Male Actor and one of our students won Best Supporting Actor – Hannah P for her role in "Including Shooter" directed by Peter McAuley.
Peter McAuley was also awarded the Adjudicators Shield for his work with the youth groups.
Keith Phillips was the adjudicator for the 2022 Festival.
Keith said
"Terrific youth productions this year, the best group youth productions I ve seen in a very long time in terms of professionalism and skill" 
Keith has a wealth of experience with 40 years in all aspects of theatre as an actor, writer, director and designer. He is also the founder and technical director of his own theatre group. 
Among amazing competition, Starcast Drama Company – Girls Like That' won BEST YOUTH PLAY and will progress to the Five Counties Youth Drama Festival.
Starcast Drama Company – Girls Like That' won BEST TECHNICAL ACHIEVEMENT (chosen from both Adult and Youth Plays)
Huge congratulations to HANNAH P who won BEST SUPPORTING actor
Other nominees were;
BEST YOUTH MALE ACTOR- James M
BEST YOUTH FEMALE ACTOR- Rosie F and Amy S.
BEST SUPPORTING ACTOR- Lizzie H.
And big congratulations and huge thanks to our Drama Teacher Peter McAuley who was awarded the Adjudicators Sheild for his work with Starcast and Studio Theatre
Pete must also share the Technical Award for all his expertise and support with GLT.
A huge well done to all our amazing students – you are all incredible and it's only together and with each other's support that we make a winning team
Starcast Founder – Sam Holloway – said: "We work incredibly hard, as a team, at Starcast, to support our students and to give them the opportunity to showcase their talents at events such as the Totton Festival of Drama. To be rewarded by these accolades means so much to me, my teachers, our parents and of course our students. To win two years in a row is very inspiring but don't underestimate the amount of hard work (rehearsals, sound tracks, slides, lighting, editing and line learning) that goes into making a performance a winning one!"
"We are very excited to be representing Starcast Performing Arts Schools and Salisbury in the Five Counties Youth Drama Festival, amongst some of the most talented young performers in the South West, I know the seven wonderful students in "Girls Like That" will do their very best and will make me proud whatever the outcome"