Kiri Golding
BA HONS ANATD AAC1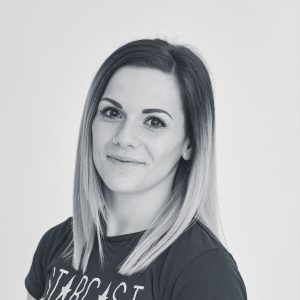 Starcast Principal (Salisbury & Romsey), Starcast Mini Stars Principal and Dance Teacher, Starcast Dance Teacher, Starcast Dance Crew Artistic Director, Starcast Dance Company Artistic Director and Starcast Dance Academy Principal
Kiri is a freelance dance artist and facilitator working in the Hampshire and Wiltshire area for the past 10 years,  providing ASC, PPA and CPD work, covering a range of style from Ballet to Street. Kiri has obtained her teaching qualification with the NATD along with a Contemporary teaching diploma, a first class BA (Hons) degree in Choreography and Dance, is an credited Little Acorns Preschool Dance teacher and an Acrobatic Arts Certified Teacher (AAC1). Kiri passed the world's only accredited certificate for teaching Authentic Street Dance with Urban Strides with Distinction.
Kiri is a Recognised Teacher with CDMT and has been awarded the certificate of good professional practice. Teachers awarded CDMT's Recognised Teacher Award demonstrate to students, parents and guardians that they adhere to the standards demanded by the industry; standards designed to protect and safeguard young people whether dancing for leisure or with an eye to a career in the profession.
As a freelance artist, Kiri develops creative work independently and collaboratively within her own company, GoldHill Dance, who are supported by the GradLab Project, funded by Arts Council England with extra support from The Point, Eastleigh, The University of Chichester and The University of Winchester.
Alongside this, Kiri performs professionally as a dancer regionally with the site specific all-female dance company, The Land Girls.
Having performed on larger platforms such as The Voice, she has also had featured roles with Music Video's for musicians such as FOOR and Knight$. Having also featured on the movie Final Score alongside actors Piers Bronsnan and Dave Batista and recently cast in the newest MasterCard:Brit Awards Advert (2017) with Robbie Williams.
Alongside her professional career, Kiri is passionate about motivating and inspiring the younger generation of dancers. Kiri believes movement is an integral process if understanding and learning. Explorations through dance allows the mind and body to be conditioned through the kinaesthetic pathway, encouraging a physical contribution to fitness and wellbeing combined with an abundance of exciting learning possibilities.
Kiri will be leading all our Dance Academy Classes in Ballet, Modern, Tap and Acrobatics.
Kiri strives to deliver fun, knowledgeable and technical classes. She wishes to help each child achieve their full potential. Kiri is thrilled to be part of the Starcast Team and truly believes every child deserves their chance to sparkle and shine!
Kiri's Qualifications & Certificates:
 RSL Diploma in Dance Teaching (level 4) (QCF)
Associate NATD (National Association of Teachers of Dancing)
Diploma NATD Contemporary Dance
First Class BA HONS Degree in Choreography and Dance from the University of Winchester (UoW)
Little Acorns Preschool Dance Certified Teacher
Acrobatics Arts Certified (AAC1)
QLS SEN Teaching Diploma (level 5)
Mental Health First Aid Certified
Safeguarding: Understanding Young Minds
Advanced Safeguarding Level 2
Statutory & Mandatory training: Safeguarding Children and Young People Level 3
Safeguarding: Child Exploitation
Safeguarding Children: Internet Safety
Enhanced DBS
First Aid Trained
CDMT Quality Teacher Status
Diploma NATD – Intermediate & Associate – teacher course
Allergywise – Anaphylaxis Training & administering medication