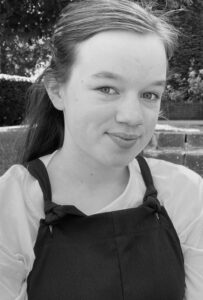 Companies & Troupes teaching assistant and front of house
Emily has been involved in music from a very young age, engaging in piano and cello lessons, as well as being a member of local choirs and orchestras.  It's from there that Emily discovered her love for musical theatre, and joined Starcast Performing Arts School in 2012.
Emily has worked hard over the years at Starcast, being invited to join Starcast Drama Company, Starcast Dance Company, and Starcast Singing Company.  Emily has performed at many events with Starcast, including as a backing dancer for a local drag queen at Southampton Pride 2021, Disneyland Paris 2022, Salisbury Christmas Light Switch On, Salisbury Does Strictly, and many Trinity Exams (in which Emily has achieved Grade 6 in group musical theatre and Grade 6 in plays in production).  Emily has also competed at events such as Totton Festival of Drama and Devizes Eisteddfod.
Emily has furthered her training by completing a Level 3 Extended Diploma in Performing Arts, and is currently halfway through a second Level 3 Extended Diploma specialising in Dance at Andover College.
Emily has volunteered3 with local charity Youth Action Wiltshire/Community First/SPLASH, assisting in providing activities and support for children and young people across Wiltshire who are facing challenges in their lives.  Through this, Emily has gained invaluable knowledge and experience in supporting children and young people to make the best out of every situation, as well as learning more about how to assist those with extra difficulties.  Through this, Emily has been awarded both The Young Volunteer Award from Healthwatch Wiltshire for her work with SPLASH and Volunteer Project Winner from Healthwatch England for her work as a qualified Young Listener in school settings.
Pearson BTEC Level 3 Foundation Diploma in Performing Arts (achieved top grade)
Pearson BTEC Level 3 Extended Diploma in Performing Arts (achieved top grade);
UAL Level 3 Foundation Diploma in Performing and Production Arts, Specialising in Dance (achieved top grade)
SLQ Level 1 & 2 Qualification in Dance Leadership; Sports Leaders GoLead; SLQ Valuing your Learning Challenge
WOLT Emergency First Aid at Work; Mental Health First Aid (CPD certified)
ASDAN Running Activities; Activities and Peer Tutoring; ASDAN Bronze Youth Achievement Award
YAW Safeguarding; Community Organising; Health and Safety Activities and Working with Young People
Certificates in: Understanding Autism; Managing Challenging Behaviour; Supporting Children and Young People's Wellbeing; Working with Young People in Sport and Exercise; Panic Attacks; Children's Rights; Sport Burnout and Overtraining; Dance Skills; Roles and Responsibilities when Working with Young People; Exercise and Mental Health; Challenging Ideas in Mental Health
Level 6 Trinity Guildhall Musical Theatre with Distinction; Level 6 Trinity Guildhall Plays in Production with Distinction
Level 2 Food Hygiene and Safety; Food Allergy and Intolerance Training