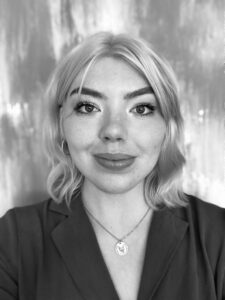 Social Media and Marketing Assistant
Elly is a young creative from Salisbury who is currently studying a BA Hons in creative writing with the Open University which she is finding very fulfilling.
Captivated by the visual arts and creative writing from a young age, after her A Levels Elly went on to achieve a foundation level degree in Fine Art at Salisbury College. This is where she developed a keen interest in visual communications and learned it's importance in successfully portraying organisational core values and brand image. 
After experimenting with many artistic disciplines, Elly went on to exhibit her work locally in the gallery '36 Salisbury' just prior to the first pandemic lockdown and was fascinated by the way in which art forms can create and build a unique narrative. Drawn to the storytelling process, Elly has been exploring a variety of narrative forms through her creative writing degree, including those directly applicable to business settings such as social media and marketing.
Using her current studies alongside her artistic background Elly relishes the opportunity to work with Starcast's online presence and bring her skills to the Starcast community as a Social Media and Marketing Trainee through the Kickstart Scheme. In her new position she hopes her contribution to the Starcast family will help capture the interest of children and young people who are just starting out on their creative journey in the performing arts.